Sound Bath Journey and Meditation for Ukrainian Relief
May 27 @ 7:00 pm

-

9:00 pm
Escape for two hours with a Guided Meditation and the Sounds of Singing Bowls & Gongs in support of the victims of Russia's war on Ukraine.
Escape for two hours into deep relaxation with a Guided Meditation and the Live Sounds of Singing Bowls and Gongs.
Imagine you are in a hall; an antique hall with beautiful wooden floors and walls, with crystal chandeliers hanging from the vaulted ceilings. In the middle of this room is a large arrangement of over 20 Crystal and Himalayan singing bowls. Around the outside of the room is an arrangement of large gongs and other instruments that are tuned to sing in harmony with the singing bowls.
Now, imagine you are either laying down on the floor, or sitting in a chair with your eyes closed, somewhere in between the sonic fields of these instruments.
We will begin the evening with a guided meditation to help bring you into a deep relaxed state. This will be followed by an incredible sound journey that will allow you to float away into another world. A conversation between the singing bowls in the center of the hall and the gongs and other instruments around the outer perimeter will take place, played by Brad Fedorchuck, Chris Cole, and Denise & Ivan Blaney. Be prepared to spend 2 hours in a state of peace and harmony.
WHAT TO BRING:
Yoga mat, blanket, pillow, eye pillow… anything to make yourself comfortable.
If you wish to sit in a chair, please let us know ahead of time so we can have one ready…. Or bring your own reclining lawn chair for more comfort.
Bottle of water for after the event.
Bring a friend! We hope to sell out all 100 tickets. All proceeds are going to Ukrainian Relief charities to help with the humanitarian needs of the victims of Russia's war on Ukraine.
ABOUT THE MUSICIANS
We are four friends who have decided to donate 100% of the proceeds of this event to help families in need in the Ukraine.
Brad Fedorchuck http://breathewithbrad.com/index.html
From the first time you experience a meditation from Brad, you know exactly what kind of person he is; a kind and gentle soul who has your best interest at heart. Brad will be leading you into the event with his soft and soothing voice, preparing you for the sound journey.
Chris Cole https://www.balancedway.ca
Chris practices Traditional Chinese Medicine and has a tremendous love for the gong. He performs on a regular basis throughout Niagara with over 40 metal gongs and bells. Attending one of Chris's Gong events is something you will surely enjoy. Tonight, he will be playing only a few of his gongs as part of this collaborative sound journey.
Ivan & Denise Blaney https://soundhealinginstruments.com
Denise has been a musician all her life and fell in love with the singing bowls several years ago. She approaches the method of playing both Himalayan and Crystal singing bowls as a musician, playing multiple bowls at the same time creating soothing harmonies, exploring different relationship of notes to create different emotional sound journeys.
Ivan fell in love with the gong and has been perfecting his practice, focusing on the soft soothing tones of the gong.
Together, these four talented friends will take you on an incredible sound journey. An escape from your day to day life, into an evening of deep relaxation.
ABOUT THE SPONSORS:
The Niagara Sunflower Festival For Ukrainian Relief was created in 2022 in response to the unprovoked attack on Ukraine by Russia. A group of Beamsville residents were inspired by the courage and long suffering of the people of Ukraine in the face of this disgusting war. Our group wanted to do something to help the people of Ukraine and we decided to attempt a few fundraising events in the Beamsville Grimsby area. The Niagara Sunflower Festival for Ukrainian Relief is thrilled to present The Sound Bath and Meditation for Ukrainian Relief.
The Sound Bath and Meditation for Ukrainian Relief is our fifth fundraiser since Feb 2022. The musicians and meditation leader came to us because of their concern for the plight of the people of Ukraine. These generous and talented people have volunteered their time and talents for this event in service of our fundraising efforts. All of our events are run by volunteers and all proceeds go to Ukrainian Humanitarian charities. Please come and enjoy a beautiful evening in contemplation and meditation and support a great cause.
Sponsors of the Niagara Sunflower Festival for Ukrainian Relief are: BCU financial (a credit union servicing Ukrainian Canadians in Ontario), Chase Realty, Rankin Construction, London Born Winery, Twenty Valley Farms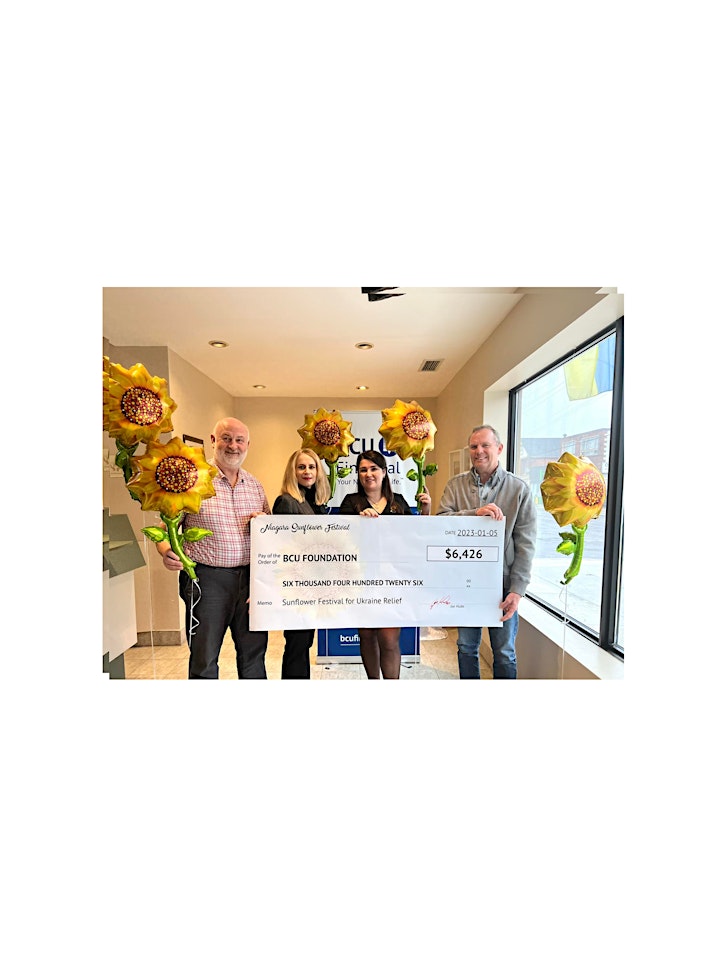 Skip to content