Espresso Live: Succession Planning and Business Investment
May 31 @ 10:00 am

-

11:00 am
Learn the next steps for business owners to take when they are getting ready for investment or succession.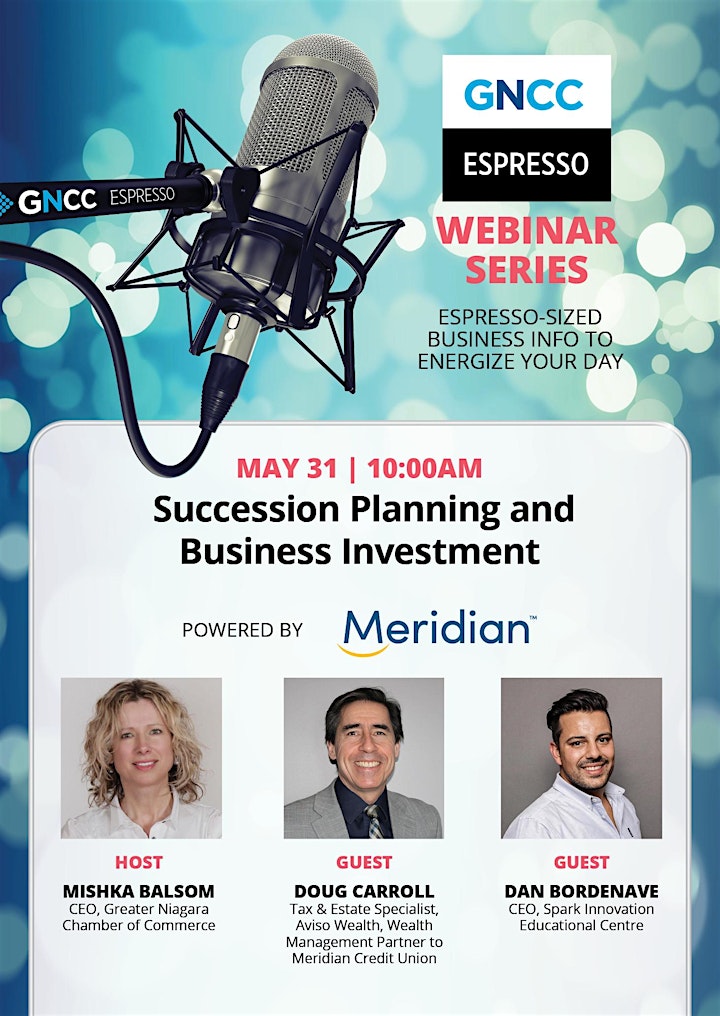 In today's rapidly evolving business landscape, ensuring a seamless transition of leadership and securing investment opportunities are paramount for long-term success. Join us for an engaging session designed to empower entrepreneurs and business owners with the essential knowledge and strategies for effective succession planning and attracting potential investors. Don't miss this opportunity to gain a competitive edge and secure the future of your enterprise.
Hosted by Mishka Balsom, CEO, Greater Niagara Chamber of Commerce.
With guests:
Dan Bordenave, CEO, Spark Innovation Educational Centre
Doug Carroll, Tax & Estate Specialist, Aviso Wealth, Wealth Management Partner to Meridian Credit Union
Powered by Meridian Credit Union
Questions:
You can submit your question in advance when you register, or use the chat function within the webinar to ask your question. *Due to time constraints, we may not be able to get to all questions.
Missed the episode?
No problem! Visit gncc.ca or follow us on social for past episodes.
Skip to content